---
The Earthquake Years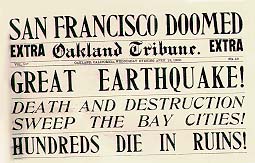 | | |
| --- | --- |
| | The southwest corner of Bush and Fillmore, just days after the Earthquake f 1906. The Fillmore was one of the few parts of the city that didn't burn down in the post-quake fire. Note the makeshift police station and the banner offering aid to refugees. The ruins of Saint Dominic's appear in the background. Photo by Arnold Genthe. (California Palace of the Legion of Honor) |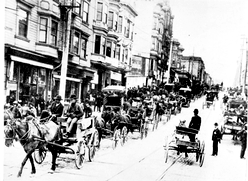 Immediately after the quake, the Fillmore became the main center of business in San Francisco.

If you have photos of the Fillmore from any era, we'd love to see them. We may even add them to our online Fillmore Museum. Contact us by e-mail or call (415) 776-1888
---
© - 2001. All Rights Reserved.